According to the United Nations over half the global population currently live in cities, but by 2050 this will rise to 7 in 10 people. This rapid growth means more demand, consumption and ultimately more waste. From water shortages, to high energy use, how do cities limit the enormous strain on infrastructure and resources? The James Dyson Award Top 20 finalists are redefining the modern city.
Eating fast food with cutlery made from the leftover potato peel, wind turbines for city apartments, a robot cleaning urban water systems and ants on the menu thanks to prefabricated ant nests; these are just some of the Top 20 finalists' visions for the future.
Narrowed down by Dyson engineers from thousands of finalists in 27 participating nations, these 20 projects will now be presented to Sir James Dyson who will select the overall international winner and two runners-up. The international winner will receive £30,000, and the two runners up will receive £5,000, to kick-start the development of their early prototypes into products.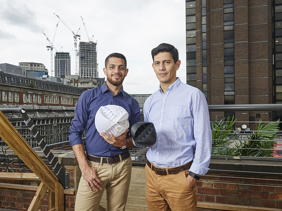 The taller we build our cities, the windier they become. As we hunt for renewable sources of power generation why is this powerful and plentiful resource untapped? Traditional wind turbines only capture wind travelling in one direction, but are very inefficient in cities where the wind is unpredictable and multi-directional. Using a simple geometric shape, O-Wind Turbine is designed to utilise this powerful untapped resource, generating energy even on the windiest of days. Click here to see the device in action.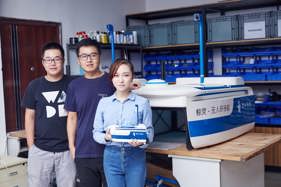 From Johannesburg to Las Vegas, due to the rapid urbanisation many cities are suffering with serious water pollution in their lakes, creating a build-up of plastic waste and unsafe water. Orca can clean a lake 7 times faster than manual cleaners, at a cost 70% lower.
NECO – Switzerland
Neck braces are used in accidents to prevent spinal injuries. Despite their pivotal role in preventing severe damage to the spine, cervical collars only take two forms: hard and soft. Unlike conventional neck braces, NECO can be fitted from the front of the neck meaning the patient's head doesn't have to be lifted and it can easily adjusted to the size of the patient's neck. This makes fitting the brace quicker, easier and more effective, potentially reducing the risk of further damage. Click hereto see NECO in action.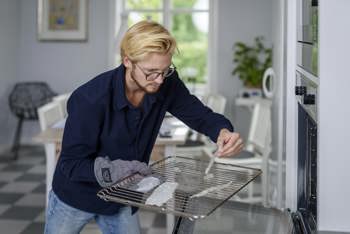 Image of turtles, dolphins, birds and other marine life ravaged, and even killed by plastic are appearing on our screens. There are eight million tonnes of plastic in the world's oceans, and the food industry is one of the main culprits for this waste. Looking to limit the use of plastic, and change our consumption habits, a student from Sweden has founded Potato Plastic, a biodegradable material made of potato starch, that can be used for anything from straws to cutlery, and will turn into compost just two months after use.
With 40 percent of the world's population living in malaria-risk areas, over one million people die from malaria each year. Seeking to improve the efficiency and accuracy of treatment in developing countries, EXCELSCOPE is a semi-automated, smart Malaria diagnostic device that can be used through the simple touch of a smartphone.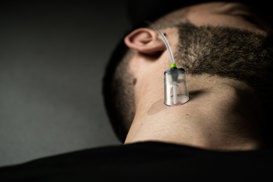 Central venous catheters are large tubes which are inserted into the heart and are generally only used in emergency situations, and are often be administered in moving ambulances. Despite this, current devices struggle in these unstable environments. CEVEC is designed to make administering central venous catheters quicker and easier.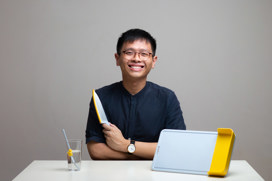 Using sharp objects to rustle up a delicious dinner is an everyday challenge for people with severely impaired vision due to the lack of sensory references. To ensure everyone can prepare food safely with confidence and dignity, Folks kitchenware is a range of kitchen utensils that use natural, sensory feedback and tactile cues to make them safe for those with visual impairments to use.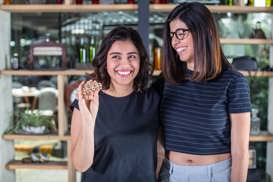 The global population is set to rise to 9 billion by 2050, which in turn is expanding a middle class that loves meat. Our obsession with meat has seen consumption grow by 50 percent over the past four decades, forcing the agricultural industry to quickly identify alternative sources of protein. For Karla and Mariana from Mexico insects are the missing link in the food industry as they are both marketable for humans and feeding source for animals. Their invention, Azcatl is a prefabricated nest that will help ants to establish their colony quicker and more easily, with the aim of kick-start a brand-new bug economy.
MEDMO
– New Zealand
Medical drains used in hospitals such as catheters, can often leak, block and cause infections which impacts patients' comfort in hospitals, and limits the efficacy of their treatment. MEDMO is a smart system that measures fluid levels, updates users in real time and alerts patients when something abnormal like a blockage, has been detected.
OPOD
– Belgium
Nobody likes needles, which might explain the lack of innovation in blood tests; Skin Prick Tests conducted by doctors and nurses often cause spillages, are unhygienic and lack standardisation. By minimising the need for manual actions, OPOD is designed to make these tests as quick, safe and as painless as possible. 
POD– Hong Kong
From Kerala to Nigeria, incidents of flooding have risen 50% in the past decade. In developing countries with poor infrastructure, drowning is often the largest cause of death during flooding, meaning there is a desperate need for more accessible lifeboats. Lightweight, low cost and durable,POD can foldup and be stored in your home until you need it most.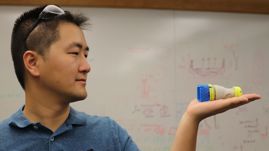 Everyday 20% of the clean water produced in the world is lost due to pipe leaks. Dr You Wu has invented Lighthouse to solve this problem. It is a small robot built from soft, flexible material and uses a special tactile sensor to detect leaks in underground water pipes. The robot is inserted into a water pipe through an existing hydrant. As the robot passively flows through a pipe, the sensors are tugged by the suction force of a water leak. When a leak is detected, Lighthouse measures the strength of the tug and records the location of the leak. Once the robot is flushed out of the pipes through a hydrant, the technician can wirelessly download a map of leaks. Click hereto see the device in action.
Although power plants generate 81% of the world's electricity, they are one of the biggest consumers of water. As steam is a fundamental part of energy extraction, power plants typically use cooling towers, where some of the water is evaporated to cool the remaining water; Infinite Cooling is designed to recover large amounts of clean water from cooling tower plumes.
An estimated 50%-80% of fire deaths are the result of smoke inhalation each year. In fires the instinct for most people is to cover their mouths with their clothes, yet applying a simple dose of water to the material of their clothes is 2.5 times more effective. Alongside fire extinguishers, Water Mask Dispenser is designed to provide victims with wet masks that could prolong resilience in fires.
he splint fFor an estimated 12 million spasticity sufferers worldwide, painful muscle spasms, muscle fatigue and muscle stiffness are a harsh daily reality. Integrating software and hardware,Smarp-ID measures muscle activity in the joints, uses data to predict where spasticity will occur and provides advice on how to manipulate tor the most effective treatment.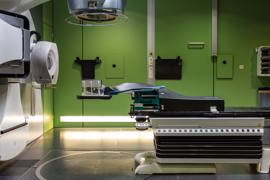 Although breast cancer is the most diagnosed cancer in women worldwide, breast boards used in treatment are yet to be adapted for women. In the case of prone breast radiotherapy, women are placed on a flat breast board, which is extremely uncomfortable and limits the efficacy of treatment as beam paths can't target lymph nodes. Prone Crawl Breast Board is a specially adapted device used to improve the efficacy of prone breast radiotherapy, and help women feel more relaxed during a traumatic process.
From Japan to Italy, millions of people from across the world live in areas that can be affected by earthquakes, many of which are concentrated in the developing countries where infrastructure is more susceptible to damage. During earthquakes every second counts, Terra is designed to give communities early warnings when there is a risk of earthquake.
Printed Circuit Boards can take up to a week to produce, slowing up prototyping and ultimately the product development lifecycle. Printem empowers anyone with access to a home-office printer to build flexible circuits in less than three minutes – opening up engineering to anyone from start-ups, to budding engineers.
One-third of food produced for human consumption is lost or wasted globally, and more than 10% of this food waste occurs within the supply chain, and overheating is often the cause. FreshStrips are low-cost, easy-to-read stickers that attach to food pallets-boxes and change colour if the food is exposed to unsuitable temperatures during transportation.
Getting around with a wheelchair can be difficult, even in some of the most accessible places. When you combine stairs and narrow seating on aeroplanes, accessibility is a real challenge for wheelchair users. Air Chair proposes a simpler solution where users can use one chair for their entire journey from departure lounge to take-off.